MACCATS RAGDOLL KITTENS
As your ragdoll kitten grows, what can you expect?
Ragdolls stand out for their large size, semi-long coat in a pointed pattern, and sparkling blue eyes. An adult ragdoll cat is among the largest of the domesticated cats.
About our ragdoll kittens.
Our ragdoll kittens are all registered and HCM (Hypertrophic Cardiomyopathy) AND PKD (Hypertrophic Cardiomyopathy) clear negative by parentage.
Our ragdoll kittens are well socialised and Catz Incorporation registered. They are bred with a huge amount of love for the ragdoll breed and a overriding commitment to creating healthy adult cats, with a genetic diversity in their lineage.  We believe that the first 12 weeks that they spend with us  creates well rounded and confident ragdoll kittens.
Fiona Maclean, our ragdoll kitten breeder is able to provide on-going support to the any new ragdoll families of our beautiful kittens.
Share your ragdoll kitten and ragdoll adult cat photos with us.
We do enjoy hearing our furry families news. Any pictures shared with MacCats Ragdoll will be enjoyed and may even land up on our MacCats Facebook Page.
Want to show your ragdoll kitten?
We also support those eager cat lovers that would be interested in showing. Having been a judge and won many ribbons with our Ragdolls we are happy to share this experience and knowledge to help get you started.
If you believe you can give a MacCat Ragdoll kitten a wonderful home and would like to be considered for one of our kittens you are welcome to contact us.
We occasionally have retired breeding Ragdoll cats looking for forever homes, please contact us if you are interested.
RAGDOLL KITTENS AVAILABLE NOW (FOR SALE)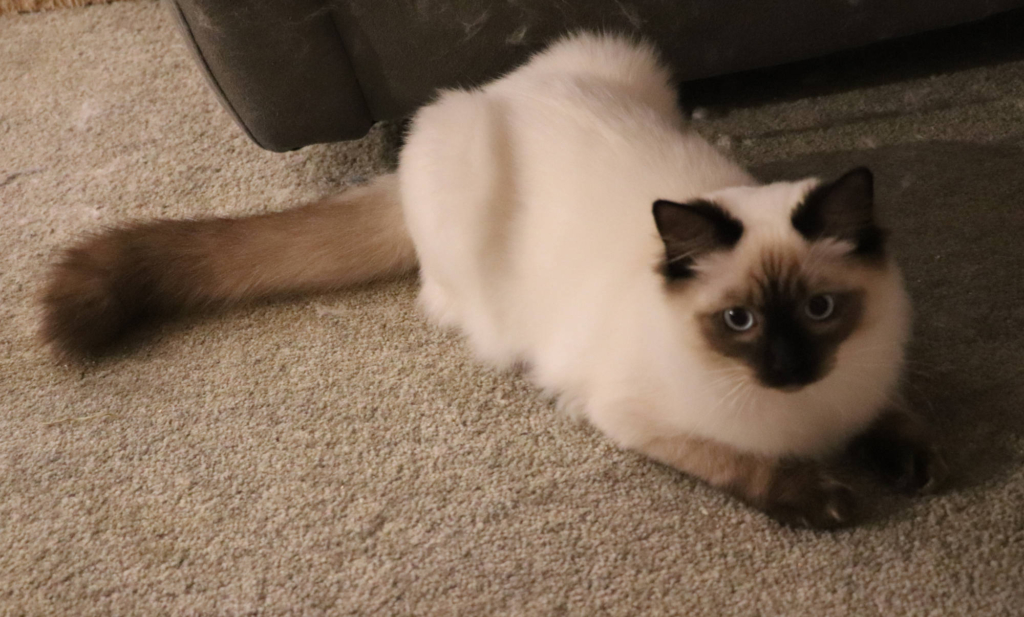 Well hello there. I am an active seal point ragdoll boy kitten. I love to play and run around until I am tired, then I want to have a comfortable spot for a cuddle. Are you using that lap right now?
– DOB 31-10-18
– Male ragdoll kitten.   Colour – Seal point, desexed.
– I have two vaccinations and desexing done, and I am going to my new home.
SOLD